Screw Conveyor Manufacturers, Suppliers, Exporters in Pune, Raipur, Hyderabad, Kolkata, Delhi, India, China, Bangladesh, Nepal, Indonesia
Prominence is a leading screw conveyor Manufacturers , Suppliers, Exporters in Pune, Raipur, Hyderabad, Kolkata, Delhi and being a top screw Conveyor Exporters we provide our services in various countries like India, China, Bangladesh, Nepal, Indonesia. It has in types like Flexible Screw Conveyor System, Auger Screw Conveyor, etc.
Screw Conveyor Manufacturers in India
Prominence Screw Conveyors efficiently move Grains, Fertilizers, Minerals for maximum performance and minimum cost and maintenance.
Pre-assembled and match-marked for easy field installation, our Screw Conveyors take convenience and productivity to new levels. The precision fabrication and custom product gives unmatched durability.
A screw conveyor rotates a helical screw blade inside a tube to transfer liquid or granular materials. In the bulk handling sector, they are commonly used. to move semi-solid materials including municipal solid trash, wood chips, aggregates, cereal grains, animal feed, boiler ash, meat and bone meal, and many other materials horizontally or slightly slope., screw conveyors are often used in modern industry. In industrial control applications, the device is typically employed as a variable rate feeder, changing the shaft's rate of rotation to supply a specified rate or quantity of material to a process.
It has features like standard and heavy-duty flights with tough tubular housing. Our selection includes Horizontal U-Trough, Tube Screw plus a complete line of supporting Screw Conveyor Part.
Our Services
Production Quality: At Prominence, we prioritise quality in all aspects of our production process. Our screw conveyors are made using high-quality components to ensure durability and lifespan. We hire qualified engineers and technicians with vast knowledge and experience designing conveyor systems. Each screw conveyor is subjected to extensive testing and quality inspections to guarantee that it meets our exacting standards and surpasses client expectations.
Customised Solutions: We understand that every industry and application has a unique set of requirements. As a top manufacturer of screw conveyors, we provide specialised solutions to satisfy each customer's unique needs. To comprehend your material attributes, manufacturing environment, space constraints, and desired throughput, our professionals collaborate directly with you. Using this knowledge, we design and manufacture screw conveyors that perform effectively and meet your precise requirements.
Versatile Applications: Our screw conveyors are used in a variety of sectors, including agriculture, food processing, chemicals, mining, pharmaceuticals, and others. They are capable of handling a wide range of materials, including powders, granules, flakes, and pellets. Our screw conveyors provide a dependable and effective option for transporting bulk goods horizontally, vertically, or at an inclination.
Precision Engineering: Our screw conveyors are precisely designed to assure constant and smooth material transmission. To ensure the best performance and minimise material deterioration or obstruction, we carefully analyse aspects such as conveyor length, diameter, pitch, and speed. We ensure that each screw conveyor is precision-engineered to offer dependable and efficient performance using our cutting-edge production facilities and innovative technology.
Reliable Performance: As a reputable screw conveyor Manufacturer, we place a premium on the dependability of our goods. To assure the lifetime and durability of our screw conveyors, we use high-quality components and apply sturdy building processes. Our conveyors are built to resist big loads, tough working conditions, and need little maintenance. With our dependable screw conveyors, you can save downtime while increasing output.
Great Customer Service: We take pleasure in providing great customer service at Prominence. We collaborate closely with our clients throughout the production process, offering frequent updates and responding to any queries or issues as soon as possible. Our skilled team is committed to ensuring that your experience with our screw conveyors is smooth and satisfying.

Following are the types of Conveyors:
Horizontal Screw Conveyor, Inclined Screw Conveyor, Vertical Screw Conveyor, Shaftless Screw Conveyor, Flexible Screw Conveyor, Screw Feeder, Tubular Screw Conveyor, Vertical Screw Elevator.
Available in Various Materials
Mild Steel (M.S.) powder coated And Painted


Galvanized Steel (G.I.)


Stainless Steel (S.S.)
Selection Chart
| Model | Capacity M 3/Hr | TPH for wheat B.D.O. 760 kg/M 3 |
| --- | --- | --- |
| SC 150 | 60 – 80 | 2.5 |
| SC 200 | 60 – 80 | 6 |
| SC 250 | 60 – 80 | 12 |
| SC 300 | 60 – 80 | 21 |
| SC 350 | 60 – 80 | 34 |
| SC 400 | 60 – 80 | 50 |
| SC 500 | 60 – 80 | 94 |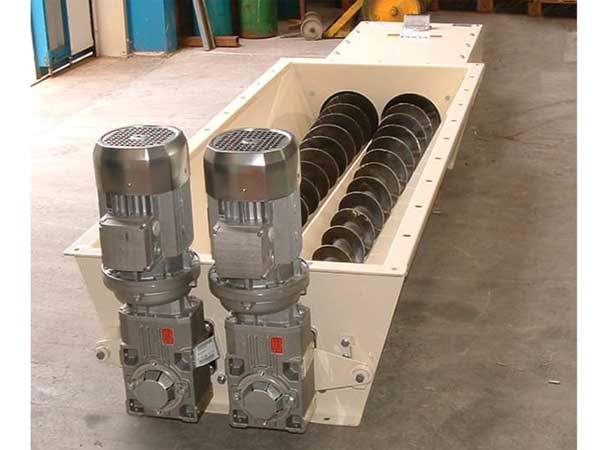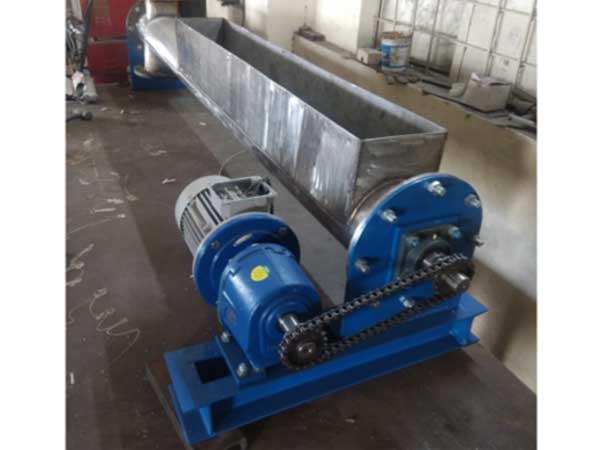 ---
FAQ
A screw conveyor is a mechanical device used for transporting bulk materials in a helical or spiral-shaped trough. It consists of a rotating screw inside the trough, which moves the material along the conveyor. As the screw rotates, the material is pushed forward or lifted depending on the conveyor's design. Screw conveyors are commonly used in industries such as agriculture, food processing, and manufacturing for efficient and controlled material handling.
For processes involving material handling, screw conveyors provide a number of advantages. To begin with, they are flexible and can handle a variety of substances, including powders, granular solids, and semi-solid solids. Second, screw conveyors may move objects both vertically and horizontally and can work at different angles. They are also incredibly energy-efficient and capable of handling massive volumes of material. Additionally, screw conveyors have a simple, space-saving design that is also simple to install and maintain.
When selecting a screw conveyor, several factors should be considered. These include the type and characteristics of the material being transported (e.g., particle size, bulk density, moisture content), the required capacity and conveying speed, the distance and incline involved in the transportation, and any specific industry requirements or regulations. Other factors include the material's flow properties, the necessary trough diameter and screw pitch, and the available space and layout constraints.
Proper maintenance and operation are crucial for the efficient and safe functioning of a screw conveyor. Regular maintenance tasks include inspecting and cleaning the conveyor components, such as the screw, trough, and bearings, to prevent material buildup and ensure smooth operation. It is important to monitor the screw conveyor for any signs of wear or damage and to address them promptly to prevent breakdowns. Operators should be trained on safe operating procedures, including proper startup and shutdown sequences, as well as emergency stop protocols. Following the manufacturer's guidelines and recommendations for maintenance tasks is essential for optimal performance and extended equipment lifespan.