Chain Conveyor Manufacturers in Pune, Suppliers, Exporters, India, China, Bangladesh, Nepal, Indonesia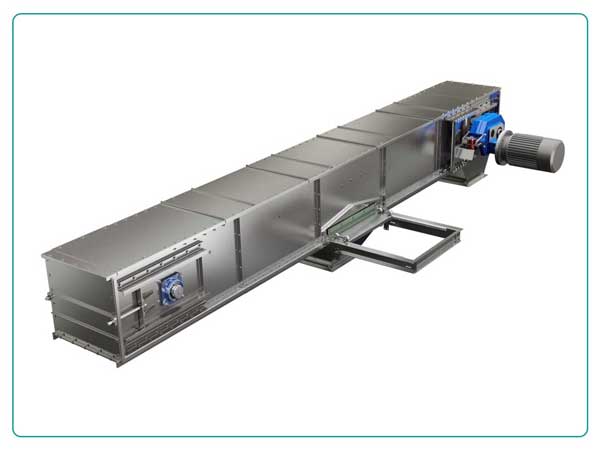 Prominence Systems Pvt. Ltd. is a leading chain conveyor Manufacturers in Pune, Suppliers, Exporters in Pune, Raipur, Hyderabad, Kolkata, Delhi, India and being a top Chain Conveyor Exporters we provide our services in various countries like India, China, Bangladesh, Nepal, Indonesia.
Chain Conveyor Manufacturers in India
Prominence chain conveyors are ideal for horizontal and inclined conveying of products. It is completely closed, dustproof and also has rain water drain for outdoor. The chain conveyors are manufactured in a modular system and can be supplied in the exact required length.
The chain conveyors are designed according to valid norms and regulations. Our chain conveyor offers an efficient way to transport products over horizontal and elevated surfaces and is outfitted with the strongest chains in the market. Due to the drop-forging and case-hardening process, the chain has a durable and abrasion-free outside surface, while the inner core is supple and flexible for long-lasting performance with a lower risk of stress and breakage. The conveyor system may be easily assembled to carry products of varied capacities thanks to its modular design.
Our chain conveyors are made to move bulk flowable materials over a few to several meter distances in a closed, contaminant-free fashion. Depending on the conveying capacity, either a single chain strand or many chain strands are offered with our chain conveyors. Our chain, which has a high level of abrasion resistance, is made by drop forging and case hardening. The chain link bores are machined to provide a full pin/bore bearing surface for maximum strength.
Available in Various Materials
Mild Steel (M.S.) powder coated And Painted
Galvanized Steel (G.I.)
Stainless Steel (S.S.)
Main Features
All bolted construction
Low energy consumption
Minimum space required for high handling rates
Abrasion resistance lining (UHMWPE) is provided throughout the bottom
Fully enclosed casing avoids dusting while conveying the material
Zero Speed Switch and overflow switch
Multiple inlet and outlet can be provided
Chain Conveyors Specifications
Sr. No.
Model
Belt Width (MM)
Capacity in TPH With B.D. 750Kg/m3
L-SERIES
M-SERIES
H-SERIES
1
CC150
150
29
33
39
2
CC200
200
39
44
52
3
CC250
250
54
61
73
4
CC300
300
82
91
109
5
CC350
350
115
128
153
6
CC400
400
153
170
204
7
CC500
500
219
243
291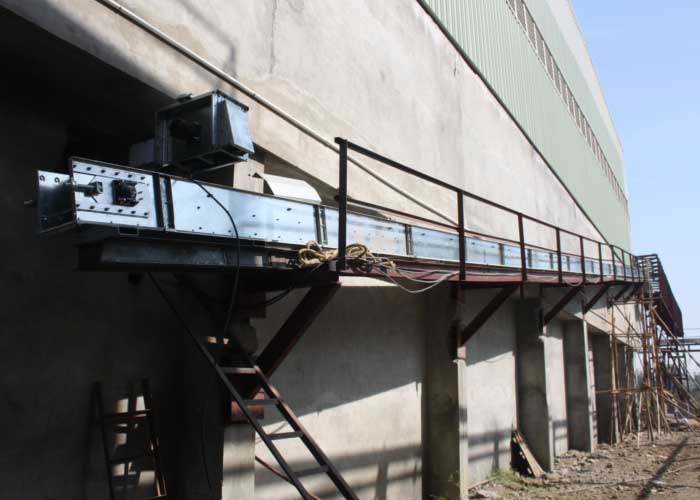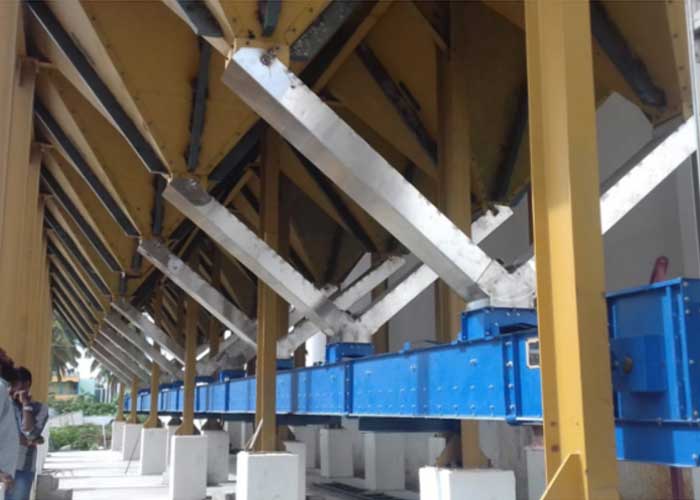 ---
Types of Chain Conveyors
As the leading Chain Conveyors Manufacturers, Suppliers, Exporters we provide our product is available in the following types:
Double Deck Chain Conveyor
Hopper Chain Conveyor
Drag Chain Conveyor
Slat Chain Conveyor
Pallet Chain Conveyor
Twin Chain Conveyor
Wire Mesh Chain Conveyor
Chain-on-Edge Conveyor
Tube Chain Conveyor
Pusher Chain Conveyor
Round Link Chain Conveyor
FAQ
A mechanical handling tool used to carry heavy or bulky things in a straight line is called a chain conveyor. It is constructed of a sturdy chain that moves down a track or trough while carrying the material on attachments or flights. By moving the chain, a motor advances the material. The material is moved efficiently and under control by the flights or attachments as the chain moves along the conveyor.
Chain conveyors offer several advantages for material handling operations. Firstly, they excel at handling heavy loads and bulk materials, making them ideal for industries such as mining, construction, and manufacturing. Secondly, chain conveyors are capable of operating over long distances and can be configured to navigate through inclines or declines. They are also highly versatile, allowing for customization to suit specific material types, sizes, and flow rates. Additionally, chain conveyors have a simple and robust design, requiring minimal maintenance and providing reliable operation.
Several factors should be considered when selecting a chain conveyor. These include the type of material to be transported (e.g., bulk density, particle size, abrasiveness), the required capacity and conveying speed, the layout and space constraints, and any environmental conditions (e.g., temperature, humidity) that may impact the equipment. Other factors to consider include the desired configuration (e.g., horizontal, inclined, or vertical), the type of chain and attachments suitable for the material, and any specific industry requirements or regulations.
Proper maintenance and operation are crucial for the efficient and safe functioning of a chain conveyor. Regular maintenance tasks include inspecting and lubricating the chain, sprockets, and bearings, as well as checking for signs of wear or damage. It is important to keep the conveyor clean and free from debris or material buildup that can hinder its performance. Additionally, operators should be trained on safe operating procedures, including proper startup and shutdown sequences, as well as emergency stop protocols. Following the manufacturer's guidelines and recommendations for maintenance tasks is essential for ensuring optimal performance and extending the equipment's lifespan.
Yes, safety precautions are vital when working with chain conveyors. Important measures include providing proper guarding and enclosures to prevent contact with moving parts, ensuring emergency stop buttons and alarms are easily accessible, and implementing safety devices such as sensors or switches to detect abnormal operation or material blockages. Regular inspections should be conducted to identify and address potential hazards, and operators should be trained on the safe handling and operation of the equipment. It is essential to follow industry standards, local regulations, and the manufacturer's recommendations for safety procedures and equipment maintenance.